Listen and download mp3 music Samus Jay - The Ultimate 00s Megamix by Samus Jay Megamix from SoundCloud.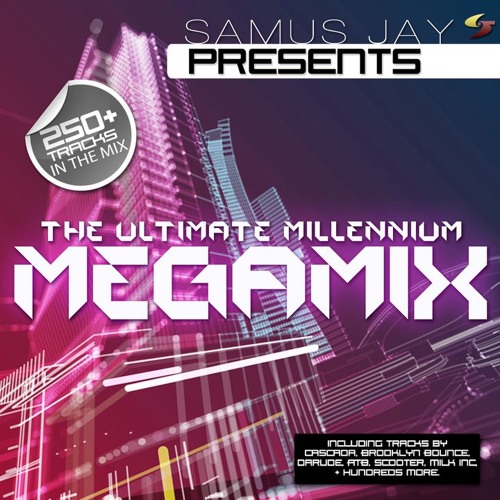 Title: Samus Jay - The Ultimate 00s Megamix
Upload Date:
24 September 2011
Uploader:
Samus Jay Megamix
Description:
Samus Jay - The Ultimate 00s Megamix

Tracklist:
Prezioso – Rock The Discothek
Mash - Rock The Disco
666 – Dance 2 Disco
Floorfilla - Anthem 3
Shaun Baker - On A Helium Trip
DJ Valium - Bring The Beat Back
Bass T Feat. DJ Schwede – How Low Can U Go
Lock 'n' Load - House Some More
Bad Habit Boys – Weekend
Aquagen – Party Alarm
Darude - Feel The Beat
Aquagen Vs Warp Brothers - Phatt Bass
Rocco - Drop The Bass
Floofilla - Anthem 3
Klubbheads – Big Bass Bomb
Z Factor – Keep Pushing (2002 Remix)
Crazy Frog - Alex F
Floorfilla - Anthem 2
Lock 'n' Load - Horny Horns
Human Resource - Dominator
SM Traxx - Is Calling
Drunkenmunky – Git Up
Da Klubb Kings – La Di Da Di
Molella - Whistle Party
666 - Supa Dupa Fly
Paffendorf – Where Are You
Voodoo & Serano – Blood Is Pumping
Gigi D`Agosinto – Bla Bla Bla
Floorfilla - The Hypno
The Digital Blonde – Electra
Milk Inc – Land Of The Living
Klubbheads - Bounce To The Beat
Paffendorf – Everybody Scream
Barthezz – On The Move
The Lawyer – I Wanna MMM.
Reflex - Ubap
DJ Jean – The Launch
Lock n Load - Blow Ya Mind
SQ 1 - One Two Three
Perfect Phase - Slammer Jammer
Floorfiller - Rebel MC
Freestyler - B Boys Fly Girls
Galaktika Feat. Daisy Dee – Are You Ready
Electrochemie LK – Schall
Salsotto Feat. DJ Stella - No Time For Lies
DJ Tomcraft - Prosac
Brooklyn Bounce – Club Bizarre
Darude - Out of Control
Norman Bass - How U Like Bass
Base 1 – My Way
Balloon - Technorocker
Shaun Baker - Back In Town
Motion One – The Ultimate Melody
Voodoo & Serano – When I Rock
Sylver – Turn The Tide
Djs @ Work – Rock The Beat
Sylver – Forgiven
Floorfilla - Anthem V
Who Da Funk - Shiny Disco Balls
89ers - Wam Bam Boogie
Daisy Dee - Love Is The Answer
666- Dance 2 Disco
Mash - Are You Ready
Miss Shiva - Dreams
ATC – Around The World
DJs @ Work - Rhythm & Drums
Paffendorf - Where Are You
Miguel Picasso - The Beat Conductor
Hampenberg - Ducktoy
Basement Jaxx - Where's Your Head At
Scooter - Maria ( I Like It Loud)
Aquagen & Warp Brothers - We Will Survive
Klubbheads - Raise Your Hands Up In The Air
Groove Coverage - Run Away
Paffendorf - Be Cool
DJ Schwede - Soldier of Fortune
DJ Valium - Go Right For
Yosh - Do You Feel It
J.K - You Got Me Dancing
Brooklyn Bounce - We Are Live
Brooklyn Bounce - The Bass Beat & Melody'
Balloon - Monster Sound
Scooter - Ramp! ( The Logical Song)
Groove Coverage- Poison
Drunkenmunkey - Yeah
Electrochemie Lk - When I Rock
Age pee - Out Of Dark
Cosmic Gate - Exploration Of Space
Base Attack - Nobody Listens To Techno
DJ Icey - This is How My Drummer Drums
Balloon - Monster Sound
Klubbhoppers - Buddy Joe
Klubbheads - Raise The Alarm
Voodoo & Serano - You Give Me The Power
Mark Oh - Never Let This Party End
Noemi - Y.O.U
Klubbheads - Let The Party Begin
Barthezz- Infected
Masterblaster - Hypnotic Tango
DJ Schwede - The Party
KK Project Iss House
The Ultimate Buzz & MC BEE - Keep Stomping
Mad8 - Pop That Puppy
Drunkenmunkey - Calibra
MC BEE - The Ultimate Buzz
Pulsedriver - Beat Bang
Aquagen - Rock The Disco
2 Alwayz - The Night Is Mine
Scoop - Drop It
DJ Bomba - Crazy Pipe
Amex Vs Alex K - Angel In My Heart
666- Rhythm Takes Control
Love Decade - So Real
Klubbheads - Check Out The Sound
Steven King - Bounce
666 - Policia
Preziso - Emergency 911
D- Devils - Black Magic
Masterblaster - Ballet Dancing
M.Y.C - Drop My Style
Dumonde - Never Look Back
Mash I Like It House
Rocco - Generation of Love
Warp Brothers - Blast The Speakers
DJ Tiesto - Lethal Industry
Brooklyn Bounce - We Want More
Brooklyn Bounce - Born 2 Bounce
Paffendorf - Crazy Sexy Marvelous
Captain Kirk - The Battle
Darude - Sandstorm
Klubbheads - Bamboo Masters
Pitchers - Black Is Black
Public Domain - Operation Blade
Alex Megane - Little Lies
Scooter - Hello ( Good To Be Back)
Alex Megane - Hurricane
Safri Duo - Played Alive
Alex C - Just Dance
Clubspeakers - Have You Ever Been
Klubbheads - Kicking Hard 2001
Gig`Dagostino & Abertino - Super
Gigi D Agostino - Ill Fly With You
Floorfilla - Italo Dancer
Lovestern Galaktika Project - Move 4 Freedom
Floorfilla - Le Delire
Floorfilla - Anthem #4
Floorfilla - Cosmik Love
DJ Valium - Lets All Chant
Re-Flex- Badadeng
DJ Unknown - Go WIth The Flow
Beam Vs Cyrus - Lifestyle
Aquagen - 1 2 3 Fiere
Yakooza - Cocaine
DJ Issac - Face Down Ass Up
DJ Jean - Lift Me Up
Cascada- Every Time We Touch
Klubbheads - Hip Hopping
Klubhoppers - Rain
DJ Sanny J Feat. Natt - This Is The Time
Lasgo - Something
Miss Peppermint - The Beat Is Rocking
Special D - Theres Nothing I Won't DO
DJ Schwede - Here We Go Again
Ago - Tell Me Where You Are
Waxman - Disco fans
Kosmonova - Discover The World
Aquagen - The Summer Is Calling
Triple 8 - All You DJ's
Klubbheads - Bamboo Sessions
Steve Twain - Work This Pussy
Master Blaster - Dial my Number
SMS vs Rehab - La Vie C'est Fantastique
Barcode Brothers - SMS
666 - The Devil
Trance Allstars - Lost In Love
Cascada - Miracle
Supersonic Vs The Boss - Running Again
Blank n Jones- DJ's fans & Freaks
Tempo Feat. Manola - Everybody Get Up
April Shower - Tell Me
ATB - Let You Go
Dance Nation - Sunshine
Sample Rippers - No Body Like The Records That You Play
DJ Schwede - Here We Go Again
Bass T - Here Comes The Sound
April Shower - Tell Me
DJ Tricky - Kick The Flow
Beam & Yanou - The Free Fall
Diana Fox - Sailaway
Mad Masterz- Ma Armastan Luuserit 2006
Sunblock vs Sandy - Baby Baby
Warrior - Warrior
PPK- Resurrection
Future Breeze - Temple of Dreams
Masochist - L.D.M.F
Special D - KIng of The Beatz
DJs @ Work - Someday
Moella - Diskotek People [2008]
Vodka Brothers - Lick It Good
Snap - Rhythm Is A Dancer
The Bloodhound Gang - Uhn Tiss Uhn Tiss
Gary Ponte - This Is The Time To Rock
Greatest DJ - Time To Rock
Nick Skitz - Feel The Heat
Kenkraft 400 - Zombie Nation
Greatest DJ - Do Your Best
Spankox - To The Club
Dub Deluxe - Sex On Sax
Danzel - Pump It Up
Master Blaster - How Old Are You?
Baby Lady - Find The Feeling
Benny Benassi - Satisfaction
Mauro Picotto - Its Like This
Blitz Konovox
Cascada- Ready For Love
Cascada- What Do You Want From Me
Clubraiders- Move Your Hands Up
Scooter - Nejassa
Brooklyn Bounce - Loud & Proud
Bleachin - Bleachin
Milk Inc - Sleepwalker
Mylo - Drop The Pressure
Molella - Genik
RBA - No Alternative
Angel City - 24/7
Beam Vs. Cyrus - Take This Sound
Airplay - The Music Is Moving
ATB - Killer 2000
Reflex - Lui
Shaun Baker - The Power
Katy Perry - I Kissed A Girl
666 & DJ Bonito - Attention
Prospect Park - Get Down Tonight
Discotronic - Tricky Disco
Starsplash – Cold As Ice
540 Boyz – Shake Ya Shimmy
Discotronic – Shooting Star
Dance Nation – Move Your Love
Black Eyed Peas - Boom Boom Pow
Dickheadz – Pimp My Stereo
DJ Alligator – The Whistle Song
Lance Inc. – Feelings
Lady Gaga – Pokerface
Pink – Get This Party Started
Dan Winter – Party Over Here
Paffendorf – Rhythm & Sex
The Black Eyed Peas – Shut Up
The Black Eyed Peas - Don't Funk With My Heart
Cascada- Because The Night
Fedde Le Grande – Put Your Hands up 4 Detriot
Sample Rippers – Miracle Makers
Phunky Phantom - Everybody get Up
Lady Gaga – Bad Romance
Masterblaster – Everywhere
Nightcrawlers -Push It 2004 Reload
Dan Winter - Don't Stop Pushing Now
Far East Movement – G6
Alex Guadino – Watch Out
David Guetta - Love Don't Let Me Go
Daft Punk – Harder Faster Better Stronger
Andrew Spencer – Zombie
Drunken Munkey – Git Up
Pulsedrivers & Rocco – Welcome To The Club
Russ T Harris - Down & Dirty
Nior - All About House Music
Global Deejays - Stars of 45
Eric Prydz – Gotta Have House Music
Cutback ft. Federal - Rock To The Rhythm
Sidney Samson - Shake & Rock This
M.Y.C - Rock
Pizzaman – Oh Le Le
KK system - I Like to move it
Calvin Harris - Down & Dirty
Foggy – Come Into My Dreams
Pitbull - Hotel Room
Blackeyed Peas - I Got A Feeling
Usher - OMG
Cascada – Fever
Cascada – Evacuate the Dance Floor
Lady Gaga – Just Dance
Floorburner - Beat Rocking
Airheadz - Here I Am
Aquagen - Love Machine
The Outhere Bros - Shake It
Flo Rida Ft. David Guetta - Club Can't Handle Me
Rihanna – One Girl In The World
Donk vs Mc Imc - You Are The One
Hyper Deejays - Follow The Rules
David Guetta – Love Is Gone
David Guetta Feat. Akon - Sexy Bitch
Starkillers - Disoteka
Ke$ha – Tik Tok
Fatboy Slim – Right Here Right Now
Danzel – Put Your Hands Up In The Air
Disco D – Booty Bar
Global Deejays - Don't Stop
Download Samus Jay - The Ultimate 00s Megamix by Samus Jay Megamix from SoundCloud. Listen to music for free in the best quality.
Listen:
Download:
Disclaimer: We don't host or cache any audio/music files on our server. All audio/music files are hosted on SoundCloud server(s). This track was uploaded by Samus Jay Megamix on SoundCloud. Free download of Samus Jay - The Ultimate 00s Megamix is available for preview purpose only. Please consider buying original CDs/DVDs/digitals to support the artist.
Related Tracks: