Listen and download mp3 music Chillstep Works - Vol. 10 [Free 320K D/L] by Ideal_Noise from SoundCloud.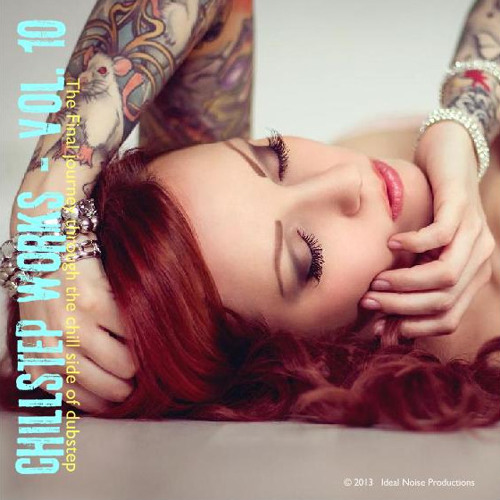 Title: Chillstep Works - Vol. 10 [Free 320K D/L]
Upload Date:
09 June 2013
Description:
Chillstep Works. - Vol. 10 by Ideal Noise Productions [2013]

Tenth and last mix tape in the series ...."a journey through the chill side of dubstep"


Mixed by : Ideal Noise Productions
Size : 282 MB
Format : MP3 - 320 kbps
Running Time : 02:00:20
Tracks : 30 (One Continuous Mix)


Special thanks to : http://soundcloud.com/zefora


Track List :

00:00:00 - 01. Papercutz - Do Outro Lado Do Espelho (Need a Name Remix)
00:05:19 - 02. Vacant - Sufffer
00:09:30 - 03. Masa'an - Again In The Mood
00:13:44 - 04. Jafu - No More
00:15:54 - 06. Luke Kay - Ekei Memona (feat. Aurélia Mengin)
00:23:25 - 07. Gang Colours - To Repel Ghosts (Troy Gunner Remix)
00:26:25 - 08. Vaun - Colorful
00:31:40 - 09. Versa - Shadow Movement
00:34:10 - 10. Bonobo - Sapphire
00:37:57 - 11. EVS - Whisper
00:41:05 - 12. Detz - Ever Be
00:46:20 - 13. Ficci - Soul Blood (Feat. Snowflake)
00:49:31 - 14. Troy Gunner - Masks
00:54:45 - 15. J-One - The Way You
00:58:30 - 16. Indigo - Fading
01:04:14 - 17. How To Dress Well - & It Was U (Kid Smpl Remix)
01:06:30 - 18. Minorstep - You
01:09:20 - 19. KASIO - Miss Scarlet in the Dining Room with the Dagger
01:11:52 - 20. Tulpa, Atlas, Henry Krinkle - Carried Away
01:16:30 - 21. Elo Method & Subranger - Make Believe
01:20:55 - 22. Eocene Nine - Chasm
01:25:05 - 23. Delete - Remember Us (Lostlojic remix)
01:29:55 - 24. Vaun - Taking Over (Feat. Animai)
01:33:05 - 25. Luke Kay - Memento (feat. Aurélia Mengin)
01:37:50 - 26. Perverse - Semblance
01:42:06 - 27. Modestep - Take It All (feat. Koven)
01:46:12 - 28. Neutralize - Where You Should Be (Ft. Nori)
01:50:55 - 29. Flinch - You Don't Know (Ft. Ellie Goulding)
01:53:50 - 30. Submotion Orchestra - Blind Spot

==================================================

So, here we are finally ... the last installment in the Chillstep Works series. To make this farewell edition special, this mix tries to represent the collective vibes of all previous nine. The "Chillstep" label came about as result of desperate search for a tag line to give a hint of what to expect if someone decides to give a +90 min. long mix a try but it never prevented me from stepping beyond its narrow and not so well defined confines. This last mix is no exception. From mellow ambient, to deep bass, vocal, melodic and banger dubstep to funky, emotive and dark Future and UK Garage sounds, these 30 tunes represent what always made this series popular and interesting to put together for me personally. And perhaps, that's why it took so long to finish this last one. It's the longest mix I have ever done (or may try to do again) and at time, it was like pulling teeth.

As it has been the norm, this installment represent an international roster of unknown, up and coming as well as, some quite well known artists, DJ's and producers also. Ranging from newcomers like Jafu, Luke Kay, Eocene Nine, Masa'an and KASIO ....to upwardly mobiles like Troy Gunner, Ficci, Minorstep, Detz, Neutralize, Delete, Tulpa/ Atlas ...to big names such as Bonobo, Modestep and Submotion Orchestra, this collection tries to showcase the vibes that have had a great impact on myself throughout making all the mixes in the series throughout
the past 3 years. It's a 2 hour long mish mash again but I hope it works .... I recommend listening to it from start to end without interruption and on high volume.

At the end, I like to give a huge Big Up to all the hard working DJ's and producers out there who are always kind enough to send me dubs, demos and WIP's … and always keep me ahead of the curve on what they are doing. If your work has not made it to this mix or previous ones, it does not mean I don't appreciate what you are doing or think it's any less superior. I have limited time and resources but always try to do the best to help out as much as I can to put your work out there in front of my own followers and audience in hopes of getting it the exposure it deserves. So ….Keep doing what you love and you'll get the proper recognition and respect sooner or later.

See you all soon ....Will be back with a new series of mixes which hopefully will be bigger and better than what made Chillstep Works series so personal and popular. Until then ....

-IN-

==================================================

SoundCloud : http://soundcloud.com/ideal_noise
MixCloud : http://www.mixcloud.com/Ideal_Noise/
Facebook : https://www.facebook.com/IdealNoise
YouTube : http://www.youtube.com/user/IdealNoise

Contact : [email protected]
Download Chillstep Works - Vol. 10 [Free 320K D/L] by Ideal_Noise from SoundCloud. Listen to music for free in the best quality.
Listen:
Download:
Tags:
Disclaimer: We don't host or cache any audio/music files on our server. All audio/music files are hosted on SoundCloud server(s). This track was uploaded by Ideal_Noise on SoundCloud. Free download of Chillstep Works - Vol. 10 [Free 320K D/L] is available for preview purpose only. Please consider buying original CDs/DVDs/digitals to support the artist.
Related Tracks: